Week 30: Babymoon in KL and Melaka (part 1)
To be honest, I was dreaming of a sun-sand-and-water kind of babymoon. To be more honest, I was actually laughing at the word "babymoon" but how could I resist the idea of a trip? I love trips! Regardless of the name, I will always say yes to a trip.
Due to a jam packed calendar in April & May (a terrific combination between family events and conferences), we decided to lengthen our existing Malaysia trip and a road trip to Melaka (Malacca) was decided. Our main consideration was of course the baby. With 30 week pregnant during the trip and most airlines have a restriction of 32 weeks for international flying. Of course it's still 2 weeks away but the thought of being checked and asked turned my travelling spirit off.
We were flying to KL separately because Phodi had to travel to Manila before arriving in KL for my brother's graduation. We flew with Malaysia Airlines and to my surprise, I wasn't being asked about the pregnancy. Not a single word was asked so the letter I got from my doctor was useless. Heheh. Probably this pregnant belly was not big enough to be a concern (ha!) or it was hidden behind my arm sling (remember my dislocated shoulder?) Anyhow, no question was asked either at the check in counter or at the gate. Nice!
I arrived in KL on Thursday and Phodi arrived just after my brother's graduation ceremony ended.
My parents took my Popo and some of their siblings to KL for my brother's graduation so it was like a family trip. Let me tell you that when you travel with my mom's family, it means walk and shop til you drop (literally!) If you in need of a good leg exercise, you should go with them. Hehehe.
Anyway, after the family left on Tuesday (and totally killed Bukit Bintang), Phodi and I headed to Melaka. We chose Melaka because we both haven't been there and it's relatively close to KL. Located 150 km from Kuala Lumpur, Melaka is a UNESCO listed historical city so we thought why not. As per our previous road trips in Malaysia, the drive was so pleasant. Clean, smooth road and light traffic once we enter the highway. We can only dream that one day we'll have more like it in Indonesia

Once arrived, we headed straight to our hotel which was the Hatten Hotel. It's located at the centre of the city, connected to shopping centres as well. It's actually not a perfect hotel to stay in a cultural city like Melaka but with 2 large luggages and me being pregnant, we wanted to avoid boutique hotels/motels with no lift. We made the right choice though because the hotel was very neat and clean, and the breakfast buffet had good selections as well.
After we checked ourselves in and grabbed a map from the concierge, we started our walk around Melaka. We crossed Dataran Pahlawan to reach A'Famosa, a Portuguese fortress that was built by Alfonso d' Albuquerque. If you did your primary school in an Indonesian school, I'm very sure that you're familiar with this name. Yes, he's the same guy that was told during our history lesson.
From there we walked along various museums (Islamic Museum, UMNO Museum and Art Museum) to reach the Stadthuys. It's a big brick-red building that has become a symbol of Melaka. While A'Famosa was built by the Portuguese, Stadthuys was built during the Dutch occupation in Melaka and was once the office for the governor. Next to the Stadthuys was the Christ Church Melaka, which was also built by the Dutch. The church is still used as a protestant church until today and it's probably Melaka's most photographed building.
When in Melaka, you shouldn't miss the river cruise along Melaka River. Similar with many other river cruises in other cities, the Melaka cruise will give you a glimpse of the city. For me personally, what's interesting was the fact that the government has been trying hard to preserve the cultural area. Along the cruise we passed different villages and cute cafes that obviously were decorated to attract tourists. The cruise last about 40 minutes on return journey and costed RM10 a person.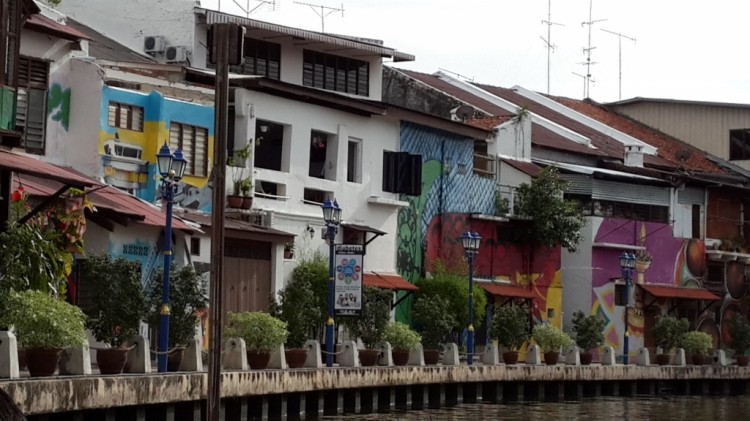 After cruising and walking around the historical area for about 2.5 hours, we headed back to the hotel to freshen up. We had two welcome drink vouchers after all! We headed back just in time for sunset and it was so pretty! After a refreshing non-alcoholic drink (obviously!) we took our car to go for dinner and a night walk at Jonker Street. The story will continue in part 2…